Site Brussel
A hydrogen filling station has been buildt in Zaventem, Brussels, by Air Liquide. The official opening of that station was celebrated at an event on 22nd April 2016.
The vehicles of the type elanoFC (by H2O e-mobile) will be employed in Brussels.
The following pictures have been taken at the opening event on 22 April 2016: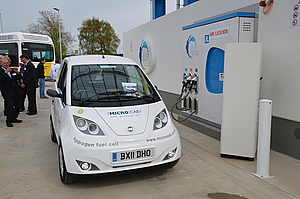 (Microcab FCEV in front of the Air Liquide refueling station, at the opening event)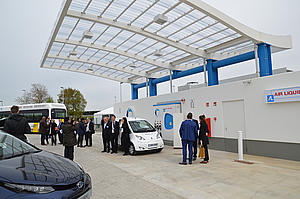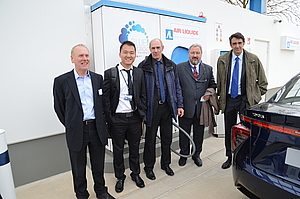 (B. Porter and J. Shang - Microcab, R. Steinberger-Wilckens - H2O e-mobile, J.-L. Delplanke and C. Navas - FCHJU)
During the demonstration phase of the SWARM-project, companies and individuals willing to trial the vehicles have the opportunity to enter the future of zero-emission transportation at an early stage.