15/11/15
The Riversimple Mk2
The company will also be crowdfunding early in 2016 to engage the public in the company's purpose and begin to generate enthusiasm for highly efficient hydrogen cars and the concept of buying mobility as a service rather than buying a car. Announcement of the demonstration, or Beta test, will follow. The vehicle chassis has been displayed at the Advanced Engineering Show at the NEC and on 13th November Mrs. Edwina Hart, The Minister for Economy, Science and Transport in the Welsh Assembly, visited the Riversimple R&D Centre in Llandrindod Wells.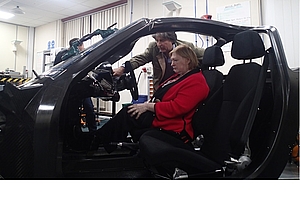 The Minister inspecting the Riversimple Mk2 chassis in November 2015.
The final designs will be revealed in January 2016.
For further information on the activities undertaken by Riversimple, please visit their website: riversimple.com